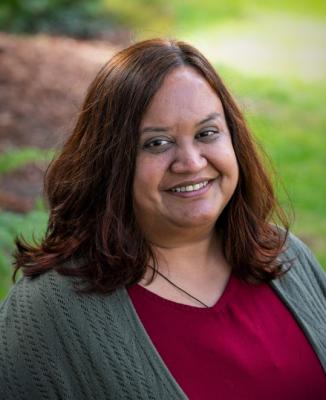 ON SABBATICAL SPRING 2023
Biosketch
Meenal Rana, PhD
Associate Professor, Child Development
Advisor, Child Development Association (RSO)
Coordinator, Directed Field Experience
Editorial Board Member, Journal of Adolescent Research
HGH 103, Cal Poly Humboldt
Email: meenal.rana@humboldt.edu 
Classes, Spring 2022
Life Span Development (CD 350)
Parent Child Relationships (CD 352)
Methods of Observation (CD 354)
Directed Field Experience (CD 482)
Dr. Meenal Rana received a Ph.D. in Human Development and Family Studies from Michigan State University. Prior to her appointment at Humboldt, Dr. Rana was a Visiting Assistant Professor in the Department of Education and Human Development at Brown University (2012-2013).
Selected Publications
Rana, M., Phelps, B. J., & Camacho, Y.* (Under Review). Acculturation gaps in Asian American families. In C. Su-Russell, L.T. Russell, & A. James (2022). Handbook of Asian American Families. Cognella Publishing. 
Rana, M., Osuna, E.*, Huffaker, H.*, & Banerjee, M. (Under Review).  An autoethnographic exploration of resilience among student parents in college: Voices of Latinas. Special Issue of Research in Human Development on College Women of Color: Intersectionality, Resilience and Emerging Adulthood (2022). 
Rana, M., & Lara-Cooper, K. (2021). Identity, relationships, and community as antidotes for historic and race-based trauma: Lessons from Sikh and Indigenous communities. Adversity and Resilience Science, 2(4), 269-284. 
Abo-Zena, M. & Rana, M. (2020). Ecological perspectives on religion and positive youth development (Editorial). Religions: Special Issue on Positive Youth Development, 11, 406-416.
Rana, M., & Duarte-Bonilla, K.* (2020). Children in immigrant families from India: Contextual analysis. In K. Nowak-Fabrykowski (Ed.). Helping Immigrant Children Succeed—A Look through Research, Experiences, and Practical Solutions. NYC, New York: Peter Lang Publishing. 
Rana, M., Qin, D.B., & Vital-Gonzalez, C.* (2019). Mistaken identities: The media and parental ethno-religious socialization in a Midwestern Sikh community. Religions, 10, 571-590. doi: doi:10.3390/rel10100571.
Rana, M., Johnson, D.J., & Qin, D.B. (2019). Mistaken identities, discrimination, and adaptive parenting for Sikh youth development. In H. Fitzgerald, D. Qin, D., Johnson, & F. Villarruel (Eds.). Handbook of Children and Prejudice: Integrating Research, Practice and Policy. New York, NY: Springer. 
*Student Co-authors
Current Projects
Examination of ethnoreligious identity formation among Sikh immigrant youth and their parents' socialization practices 
Due to their outward identity markers (i.e., turban and beard), Sikh men and boys are subjected to religion-based discrimination and harassment in workplaces and schools that has implications for ethnoreligious identity formation. Since the 9/11 attack, increased Islamophobia and mistaken identities have affected the health of both Sikh and Muslim communities in the United States. Sikh immigrant families negotiate their ethnoreligious identities and adapt their socialization practices by balancing safety and enculturation processes. Sikh immigrant communities provide socio-cultural and human capital to build ethnoreligious resilience and to support the family's socialization processes.    
Youth-adult partnerships, identity exploration among youth through engagement in environmental and social justice issues in India 
This project started as a collaboration with a non-profit organization in India, Environment and Social Research Organization (ESRO), where we utilized the Youth-Adult Partnerships (Y-AP) model to engage school youth in India. In collaboration with adults, youth were given the responsibility to create awareness in their communities about various social and environmental issues. I provided consultation on various programs, ideas on activities, and different models of engaging school youth in these issues; the ESRO team implemented the Y-AP model in 18 different schools over 2 years. We learned that Youth-Adult partnerships (Y-AP), especially through collaborative decision-making in community work, promoted a sense of self-efficacy, responsibility toward their communities, civic engagement, academic outcomes, and positive identity among youth. Based on this foundational work, in 2018, with a federal grant, I created a collaborative partnership (interdisciplinary, intercultural, and international) among Humboldt State University, Lady Irwin College, New Delhi, and three non-profit organizations in India. Seven students and two faculty members from HSU traveled to India and collaborated with the Indian partners (8 college students from India, faculty partners, and NGO partners) to work in two rural communities of North India.
Resilience, identity exploration, and belongingness among Latina student parents in higher education 
Utilizing the lifespan perspectives, intersectionality, and resilience frameworks, the current study examined the experiences of eight Latina mothers, between ages 22 to 29 years. The Latino population is growing exponentially in the United States, more specifically in the state of California. While there are many studies undertaken on Latino students on campus, fewer studies focused on Latina student mothers in higher institutions. In this research, Latina student mothers on our college campus identified risk and protective factors while navigating their education and motherhood. Our study contributes to the limited studies on student parents, more specifically Latina student mothers.
Highlights from Rural Youth Volunteers in India Program
Seven students from HSU and eight students from LIC students were paired to work in two rural communities (Tavelagarhi and Daula) in North India on social entrepreneurship projects (U.S. Department of State Grant # SIN65017CA0008). Within each village, these teams were split into two subgroups: product team and community engagement team. The goal was to create sustainable social entrepreneurship opportunities, spread awareness about environmental issues and solutions, and encourage a sustainable community in terms of solid waste management and water conservation/safe water storage. The detailed description, examples, and pictures of the key project activities are available on the following appropedia pages: 
Professional Societies and Organizations
Society for Research in Child Development (SRCD)
Society for Research on Adolescence (SRA)
Society for the Study of Human Development (SSHD) 
American Psychological Association (APA) 
National Association for Education of Young Children (NAEYC)